Add Text
Contents:
Add text
Open the Drawing Tools.
Select Text.
Settings - select your: font size, bold/non-bold, font colour and font.
Select the location on the map window where you want to place your text.
Type your text.
Select OK.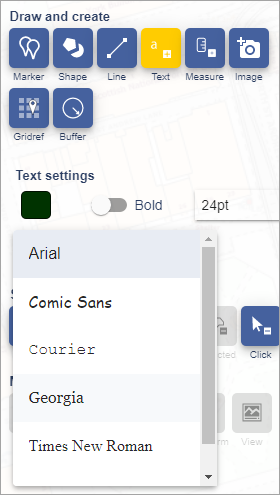 Measurement labels
You can add measurement labels to features you have drawn on the map.
Open the Drawing Tools.
Select Measurement.
Select metric or imperial.
Select any drawing to add a distance or area measurement.
If you modify the size of a feature with a measurement label, the values in the label will not automatically update. You will need to add a new measurement label.