Export Drawings
Export
You can export your drawings from Roam in several different formats. NOTE this will not export the map on display, only your drawings with their geographic coordinates.
Open the Drawing Tools.
Select Export tab.
Select the format; Shapefile, KML or GeoJSON.
Select Export.
A download box opens - select where you wish to save the file.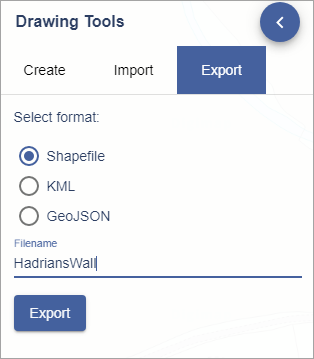 Your Export File
All drawing files are provided in Zip folders.
You may need to extract the files from the Zip folder to use them in your chosen software.
The folder contains:

a small image of your drawings and the map.
your geo-referenced drawings.
Shapefiles are provided in a separate sub-folder.