Overlays
Overlays menu
Our overlays menu offers additional layers of spatial information that can be viewed in the map window, in combination with your current map view. Overlays are not available in all collections.
Add an overlay
Open the Overlays menu, available in the sidebar.
Check the box next to any overlay to display it in the map window.
Note: if any check box is greyed out, the option is unavailable at your current scale. Zoom in/out and you will find a scale where it is available.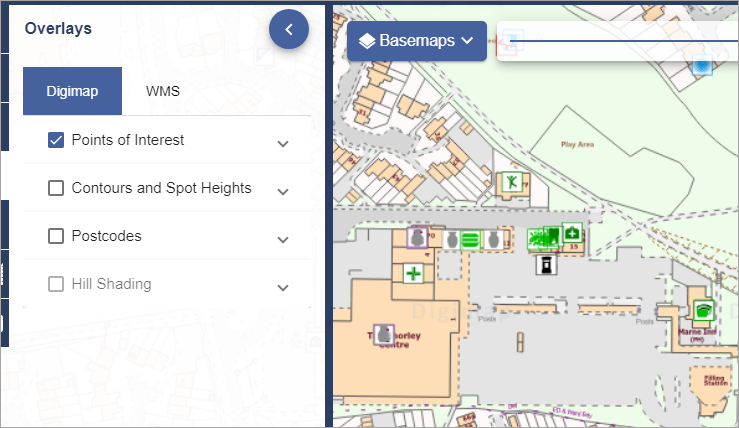 Adjust overlays
Select the arrow to the right of any overlay name to see options.
Adjust the opacity of the overlay with the slider bar (highlighted in the image below).
For some overlays, check the boxes next to the layers you wish to display, e.g. Points of Interest.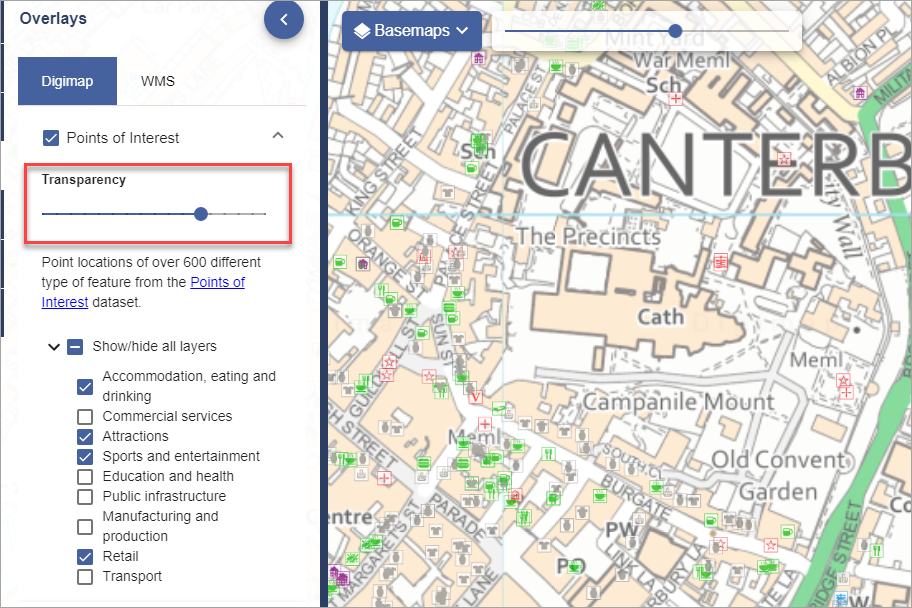 Available overlays
The overlays available vary between collections. Availability is based on two factors;
How useful an overlay will be with a collection's maps and

Whether data licensing permits us to display an overlay.
Points of interest
Points of Interest is an Ordnance Survey dataset that offers locations for more than 4 million businesses, educational, health and leisure facilities across the UK. This overlay is only available in Ordnance Survey Roam.
Postcodes
Using Ordnance Survey's Code Point Polygon product, this overlay displays the boundaries of postcodes across the UK.
Contours and spot heights
Contours and spot heights derived from the OS Terrain 5 and OS Terrain 50 datasets.
Hill shading
Available in the Overlays menu of several collections, this adds a 3D terrain backdrop to your map, letting you understand a location's terrain more easily.
Road and place names
Currently only in Aerial Digimap, this adds road and place names over aerial images to more easily identify locations.
UKMap Tree canopy
Available in Verisk Digimap, this overlay of UKMap data shows an indication of the canopy area for trees across Greater London.
UKMap Upper Floors
Available in Verisk Digimap, this overlay of UKMap data shows the upper floor content for shopping centres and indication of overhead cable areas in Greater London.
WWF Biomes
Available in Global Roam, this displays the polygons of 14 terrestrial ecoregions, as classified by the WWF.
World placenames
Available in Global Roam, this displays selected world city and administrative names.
Help video
Select the image below or this text to view our short video.