Understanding our licences
It's essential that you understand what you can and cannot do with the maps and data from Digimap Collections. All data provided through Digimap Collections are covered by licences, which detail the terms and conditions under which the maps and data may be used.
Whose data is it?
Digimap Collections provides maps and data from many different organisations and companies. Each organisation has its own licence(s) which detail what activity is permitted with their data. Much of the data is commercially valuable and by accessing it through Digimap Collections you agree to be bound by and comply with the licence(s).
Educational use
The maps and data that you access in Digimap Collections are typically provided for Educational Use (unless they are covered by an Open Data licence - see below).
When you register to use any Digimap Collection you agree to be bound by its terms of use, detailed in the End User Licence Agreement (EULA).
It is your responsibiltiy to check the appropriate EULA to ensure your proposed use of the data is permitted.
If you are in any doubt whether your project/research is classed as educational, please contact us to discuss.
Each Digimap Collection has a separate EULA.
Unsure if your proposed use of the data is covered by the EULA?
Please contact us if you are unsure about any proposed use of the data. We do not interpret the licences but can advise based on our experience and/or contact the data provided to clarify your questions. If your use is not covered by the licences for Digimap, we can help you find an alternative licensing option.
Open Data licences
Several Digimap Collections also provide data that is covered by an Open Data licence. Typically these licences are less restrictive than the Educational Use licences.
It is your responsibility to ensure your proposed use is covered by any Open Data licence.
How do I know which licence covers the data?
There are several locations where you can check which licence applies:
Digimap mapping
The Map Information panel in Digimap mapping, shown in the image below, details the licence which covers the map you are viewing in the map window.
NOTE: the Map Info. panel only gives the licence for the **basemap on display. If you have added an Overlay to your map, open the drop-down section for your Overlay and click on the product details. This will open a new help page which will include details of the data licence **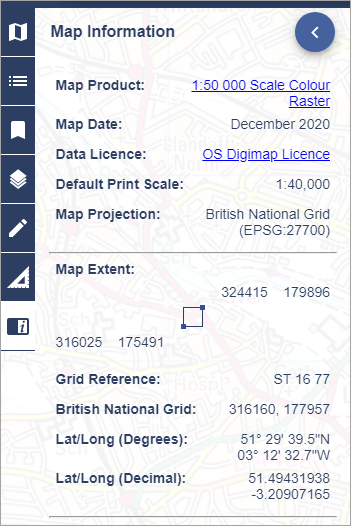 Download Data information box
You can open an information box next to any data product, which details its licence.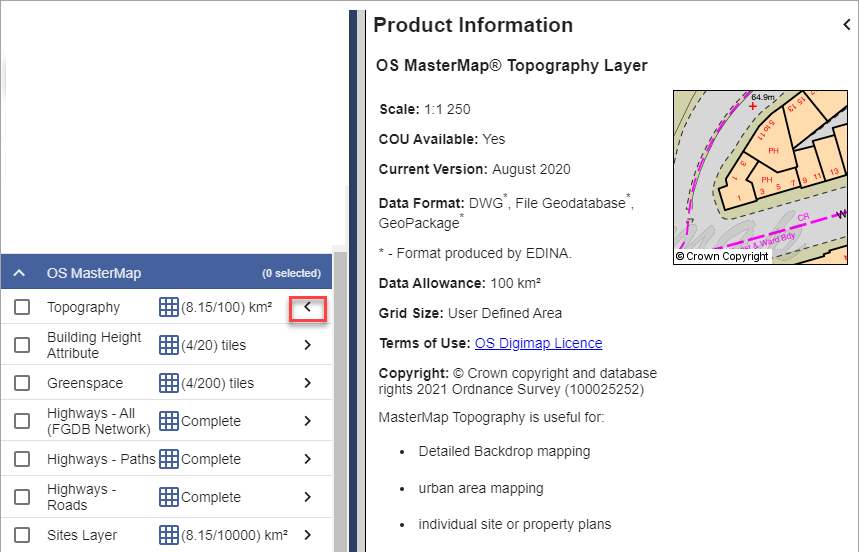 Download Data folder
When you download data, a sub-folder is provided for each data product.
A "Conditions" text file in each folder details its licence.