Step 4 Download your data
Check email
You receive 2 emails after requesting a download from Digimap:
Email 1 - confirms we have received your download request.
Email 2 - confirms your request is ready and contains a download link.
Not received email? Login to Digimap and check the email address you have provided, in the MyDigimap area.
NOTE: Orders can take up to 48 hours to process but most are processed much faster than this.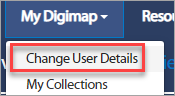 Download data file
Locate email 2.
Select the Download your data button, as shown on image 1 below:
Login to Digimap Collections.
Select the Download button on the screen that appears, shown in image 2 below.
Save the data folder to your computer.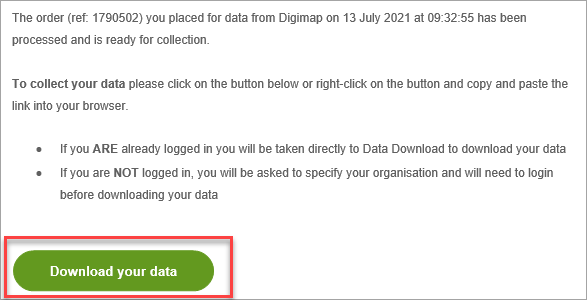 Image 1 - Download link.

Image 2 - Download button.
Download folder
Your download folder is a zip archive. You may need to unzip the folder to access the contents. Some systems will not require you to unzip.
Folder contents
Your folder will contain:
A contents_order text file, detailing all the data you have received, the geographic extents of the download area.
A citations_orders text file, with a citation for each map product you downloaded.
A sub-folder for each data product you requested - in the image below there are four sub-folders for different data products: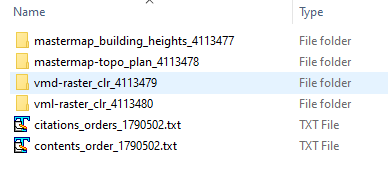 Data product folders
Do not delete anything from your data product folders! You may find multiple files of the same name, but they may all be required for your map data to work in GIS or CAD software.

Your data product folders will vary by product. They may contain some or all of the following:
The data - note you may have several files or sub-folders, depending on the data product and how the data is organised in our database.
A docs folder, which can contain: Relevant documentation for the data, Style files that you can use to apply a cartographic style to the data.
A PDF file detailing data conditions - what you can and cannot do with the data product.
Unzip folder in Windows
Locate the folder in your file explorer.
Right click the folder.
Select the unzip function. In the image below, the Windows computer has a program called 7zip.
Choose a location to store the contents, when unzipped.

Help video
Select the image below or this text to view our short video.