Step 2 Select Products
Contents:
The second step is to add the data products you require to your Basket.
Select your products
Select the down arrow to the left of a category name to open it.
Check the box(es) next to any data product(s) you wish to order.
Continue opening categories and checking boxes.There is no limit to the number of data products you can select in any order.
Select Add to Basket*, as shown in the image below.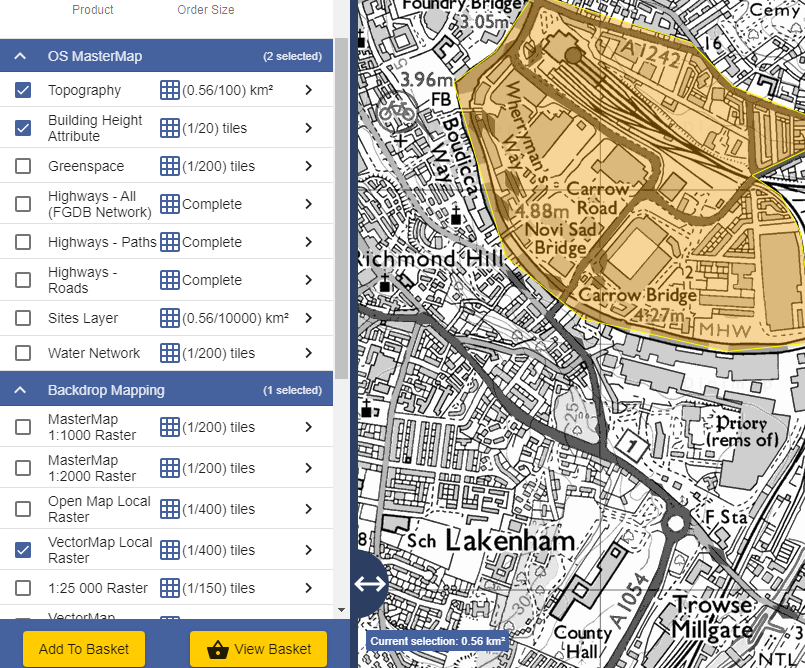 Coverage
If your selected data product does not cover your selected area, a warning message will appear on screen. You will need to select an alternative product or change area.
Download limits
If your area exceeds the download limit for any product, the product will be greyed out.
If you try to select it, an error message is displayed.
Select an alternative product or reduce the size of your area.
Browsing data products
Data products are presented in different categories.
Select the down arrow next to any category name.
A list of products in that category is visible.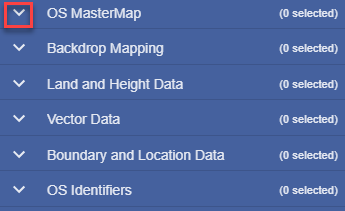 Filter list of products
You can filter the list to reduce the number of visible products.
Select the down arrow next to Filter Products.

Check the box(es) to filter either Licensed data, **Open data, or leave both checked.

Type a term where you see the text Filter Products, e.g. contours or paths. Note that the term(s) you use should be in the map data product name.

A smaller list will be presented, or the list will be blank if nothing matches your term.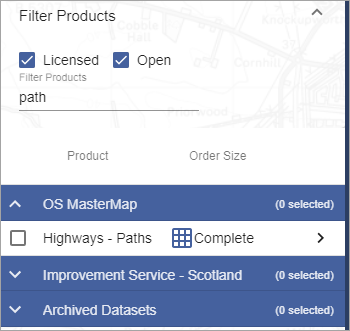 Get data information
Select the arrow to the right of any data product name.
An information box opens with product details.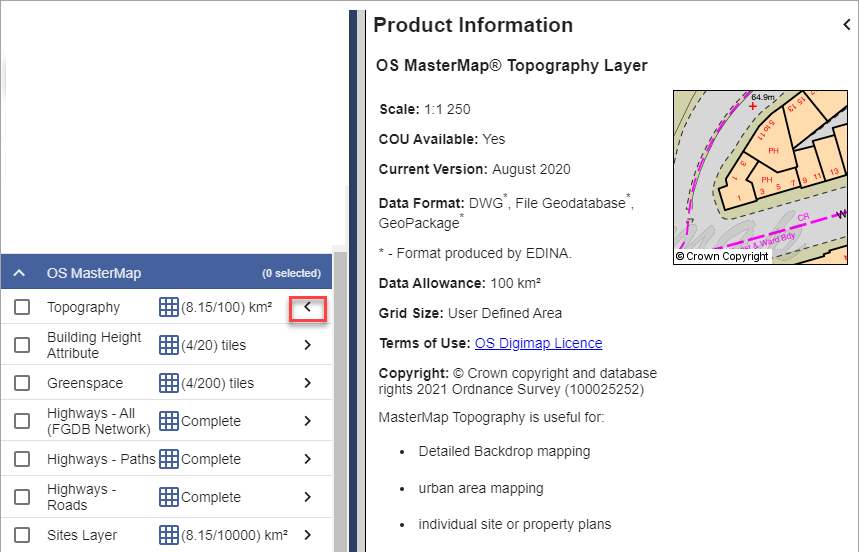 Check product coverage
Many of our map data products are available for the whole of Great Britain. Some only offer partial coverage.
Select the grid button next to any data product name, highlighted in the image below.
Areas covered by the data product are shaded on the map window. See the example image below, showing data coverage for an OS Northern Ireland data product.
Help video
Select the image below or this text to view our short video.