Rhinoceros - Load Building Height Attributes
Contents:
Getting Started
Download the following datasets for your area of interest from Digimap using the OS download data tab in Digimap:
BHA data (BHA data is found in the 'OS MasterMap' group): select DWG as the format;
OS Terrain™ 5 DTM or OS Terrain™ 50 DTM: this will be used as the base (surface) heights for the area;
Optionally download any additional data you may wish to use as a backdrop draped over the DTM surface. We're going to use OS MasterMap® Topography but other datasets could be used.
1. Import OS MasterMap®Topography as a backdrop
Open Rhino.

Import the OS MasterMap® Topography DWG file, as shown in the image below:

This will open up the Import Options window, leave the dialog as it is:

The OS MasterMap® Topography map will show up and its layers are also editable:
2. Visualising BHA data
In Rhino, select Ctrl+A to select all the OS MasterMap Topography® map data and group it:

Import the BHA data.
Please be aware that the BHA data come as a national grid tile. You might need to trim the data you do not require for your area.
3. Mesh to Nurb conversion
Switch to Shaded Mode to see the blocks better.

Select all the building blocks.

Type Mesh to Nurb in the command bar or select the icon shown in the image below:

Finish.
Delay or remove the Mesh Files
Select Create a new layer.

Select CHANGE OBJECT LAYER, as shown in the image below:.

High or delay this layer as required.
4. Tidy up the overlapped surface
The BHA data has many overlapping surfaces, as shown in the image below, and we can tidy up those surfaces to make it easier to use.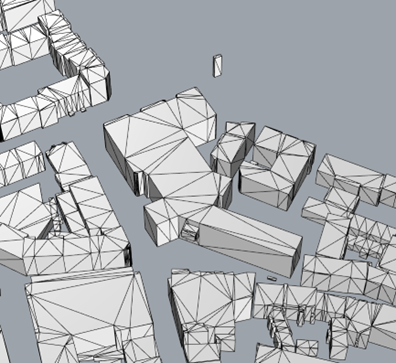 Select merge two coplanar faces icon, as shown in the image below:

Select two nearby surfaces.
Finish