Rhinoceros - Load OS Terrain 5 DTM
Contents:
Using Digimap data in Rhinoceros
Rhinoceros can be downloaded from:
It is available as a 90 day trial for both PC and Mac.
Loading OS Terrain 5 DTM
There are a number of ways of loading Digimap surface models into Rhinoceros. This method involves using the x,y,z format data that can be downloaded from Digimap.
You should be able to load this file into Rhino using the File, Import command. Note that the delimiter is a comma and you should toggle on "Create point cloud".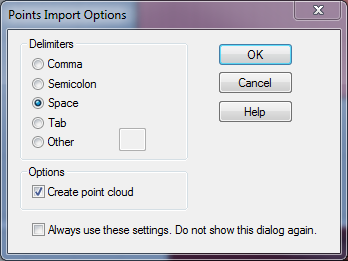 You will need to use the command Zoom Extents to view the model after importing it.
Loading Building Heights Attributes (BHA)
BHA can be overlaid on Terrain 5 DTM in Rhinoceros using the File, Import method.
It should be noted that when loading the BHA the units should be left as millimeters.
Other datasets can also be loaded in this way.