OSMM QGiS
Contents:
Importing OS MasterMap® in to QGIS
OS MasterMap® is available in a number of different formats:
File Geodatabase - this is a proprietary GIS data format developed by ESRI but can be read by other GIS applications including QGIS.
Geopackage - is an open, non-proprietary, platform-independent and standards-based data format for geographic information system implemented as a SQLite database container.
DWG - this is the native drawing format for AutoCAD although it can be read by most CAD applications. It is not recommended that you load DWG data in to QGIS.
Suggested Import Method
Download the data in Geopackage format.
Open in QGIS through the Add Vector Layer function. No conversion required. This is the quickest way to view the data in QGIS.
Digimap style files
No cartographic styling is applied when importing the Geopackage format.
Download our layer files to style the data.
QGIS instructions - Import vector layer
The instructions below were documented with QGIS version 3.16.
Open QGIS.
Select Project, New to create a new project.
Select Layer, Add Layer and Add Vector Layer as shown in the image below.

Select File as the Source Type.
Select the three dots next to Vector Dataset.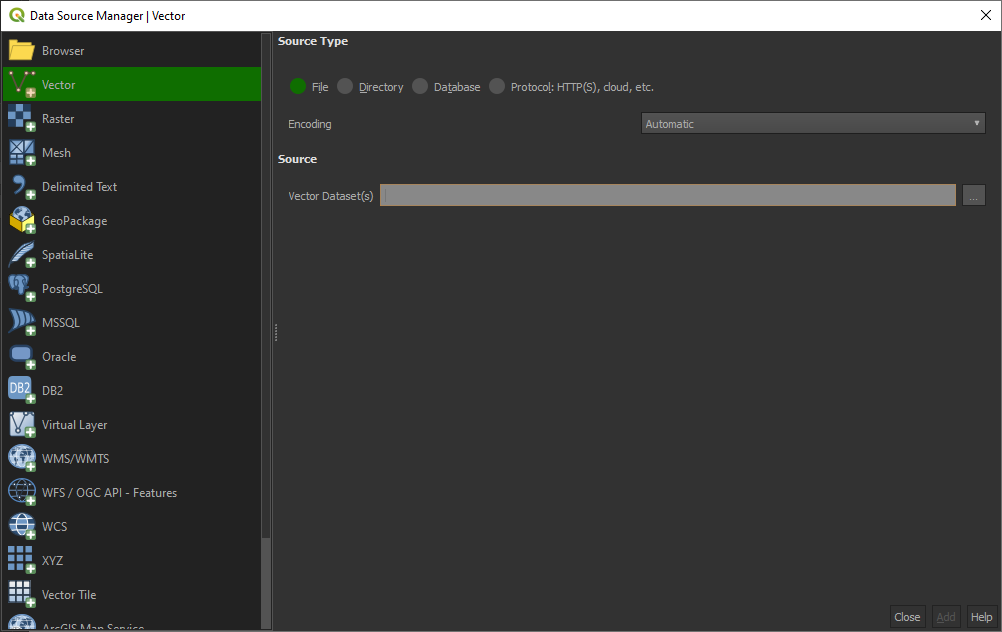 Navigate to your OS MasterMap® Geopackage.
Select the file and select Open.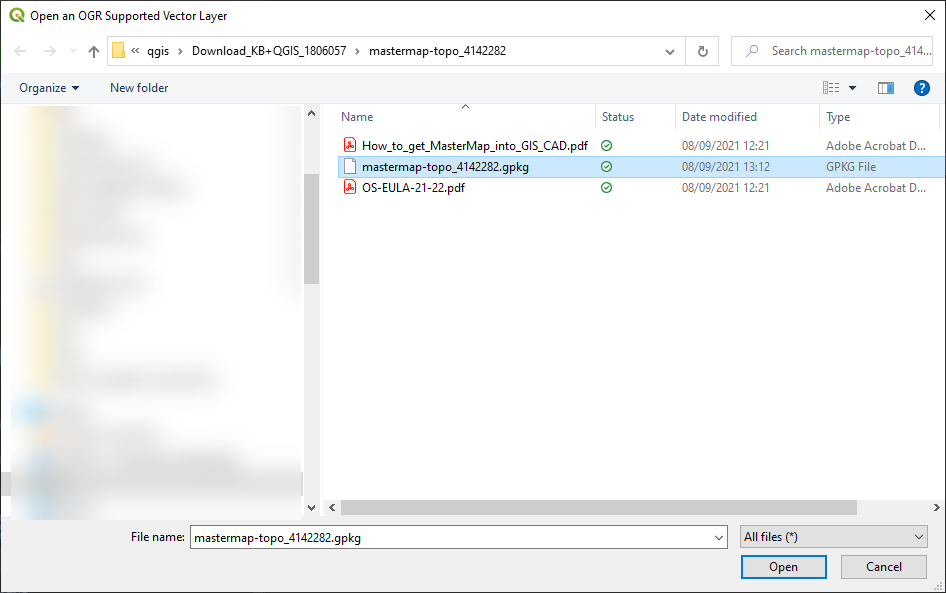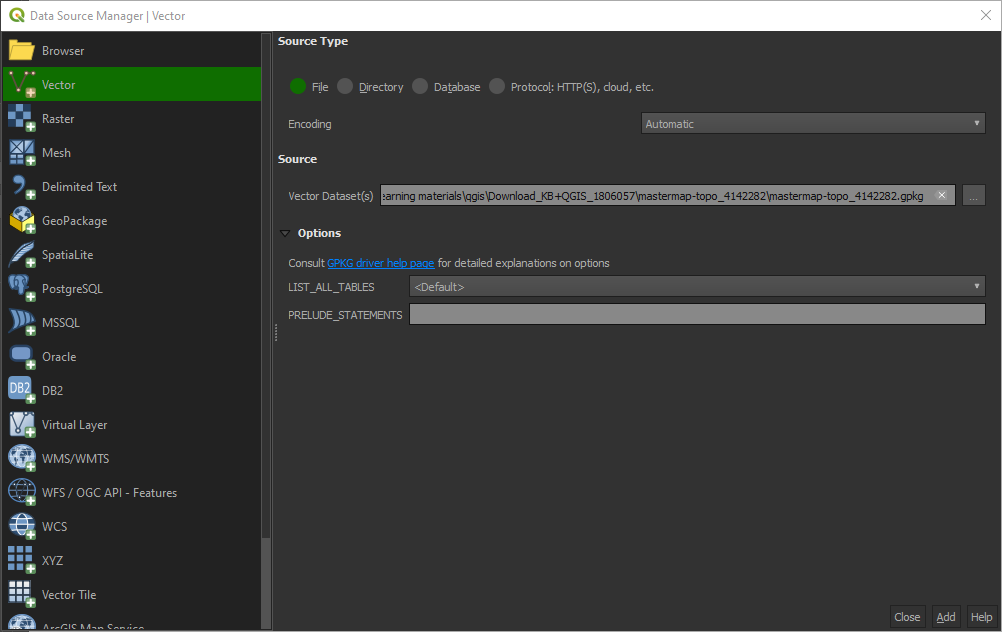 Confirm which layers of the Geopackage you wish to add.
Select OK.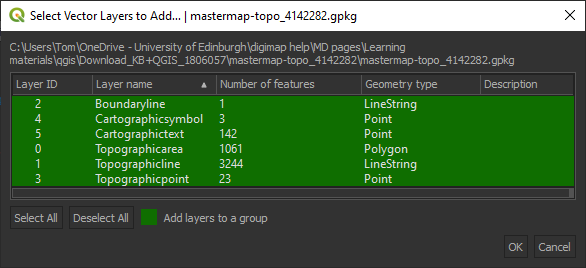 Your data should now be visible in the map window.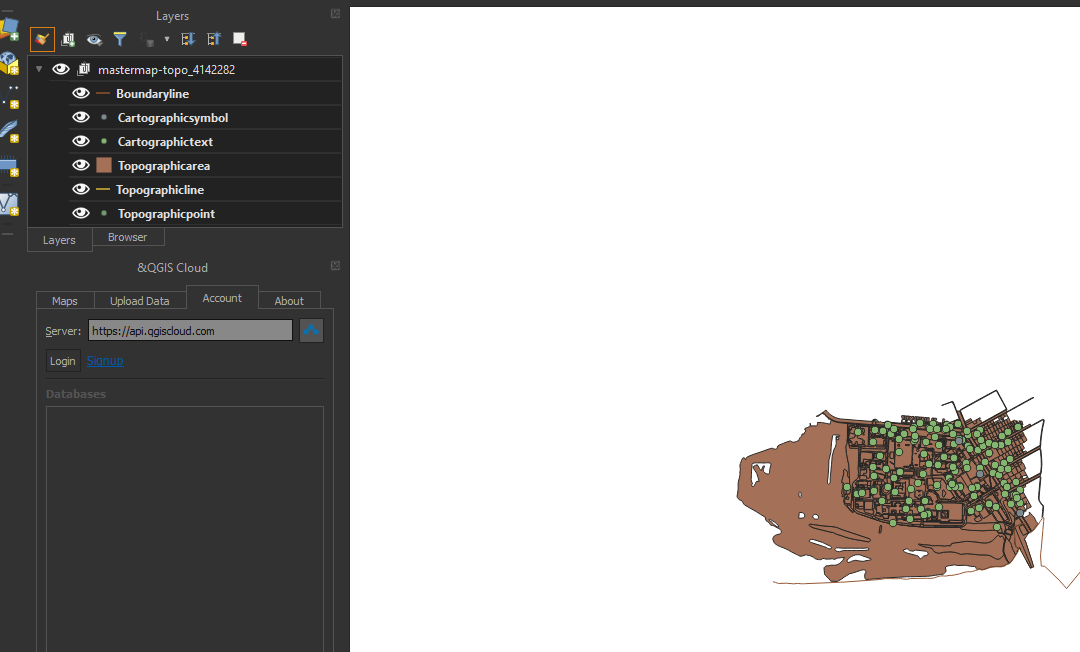 QGIS instructions - Apply styling with Digimap layer file
Right click on any layer in the Layers window (typically on the left of the map window).
Select Properties, then Symbology.
At the bottom of the box, select Style then Load Style.
Select the three dots next to File.
Find your Digimap style files.
Select the corresponding QML file for your layer - in the image below we select TopographicArea.qml.
Select Open.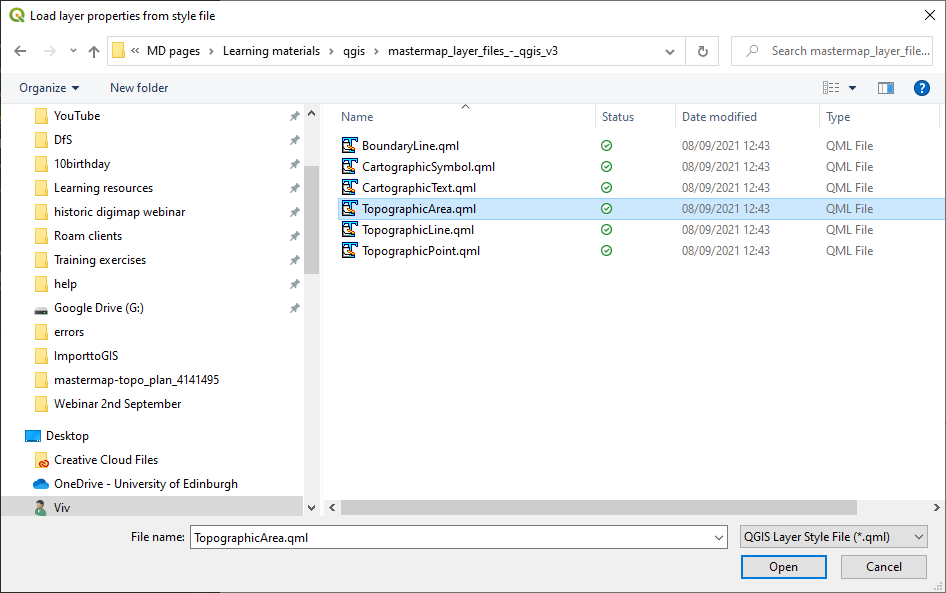 Select Load Style.
Select Apply.
Select OK.
The image below shows the Topographic Area layer with the Digimap styling applied.