Using offshore data in ArcGIS
ArcGIS and offshore data
Terrestrial (onshore) data provided by Digimap is supplied using the British National Grid projection. Offshore data, such as the offshore geology data available in Geology Digimap and the marine data available in Marine Digimap, is supplied in a different projection, WGS84. The reason that the projection is different is that the data extends beyond the bounds of the grid set out in the British National Grid.
WGS84 stands for World Geodetic System, 1984, though it was revised in 2004. The system allows you to refer to any point on the globe using degrees of Latitude and Longitude. This is the system used by GPS and is a standard for very small scale or global mapping.
If you want to add data projected in the British National Grid to a WGS84 map (or vice versa) then in ArcGIS you will be asked if you want to transform the data. You can proceed without transforming the data but this will be the least accurate way of viewing the two datasets together.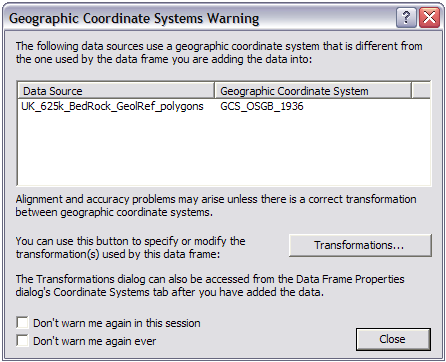 Click on the button that says transform and you will be given a list of options: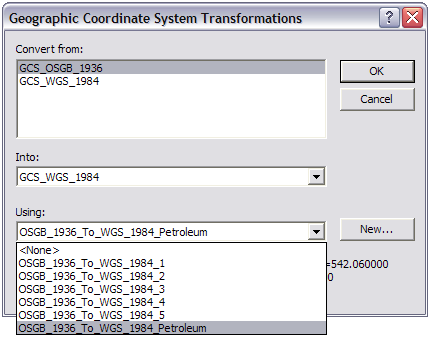 We recommend the last option, OSGB_1936_To_WGS_1984_Petroleum, as the most accurate transformation available in ArcGIS by default, however more accurate transformations can be made. The process will work in reverse if you want to add WGS84 data to British National Grid Map.